MACsheet IST
What's the IST?
This is CAD/CAM software with enhanced Nesting function.
IST has the automatic nesting (parts allocation) function that reflects our processing know-how and efficiently and create the NC data.
We will achieve the best material usage in accordance with the parts situation in the nesting function with variety of algorithms.
Reads the DXF · DWG files directly, you can create NC program without choosing the CAD. You can use your legacy Flat-Pattern data that has been created by your own CAD.
Recently 3D CAD data is normal data from manufacturer, IST can directly read and unfold 3D data with CAD Link function. You can reduce program time dramatically.
In AutoNest (nesting), can be automatically run at once in multiple parts data, and reduce the CAM (NC code) time. Material usage improvement, IST can handle to run a nesting using the remnants material. You can make cost reduction.
Benefits
You can reduce the nesting time and improve material usage by our CAM system!
AutoNest (nesting) function perform automatic allocation for the multi-part data at once. And this function is able to place the parts to remnants material to increase material usage.
You can effectively use the remnants material!
By registering the remnants in the database, you can use remnants material to nesting.
You can take advantage of 3D CAD data!
Use the CADLink feature from 3D CAD, it is possible to receive the parts data directly.
You can take advantage of the information that can be output from the production management system!
You can start nesting with using csv data which is included part name (DXF file name), number, material, and thickness.
Function
AutoNest (nesting)
This software has variety of algorithms.
You can make be used functions such efficient nesting with the function as priority, creating groups in detailed settings.
Parts data to be used for nesting (DXF) is to use the automatic allocation function, it is possible to perform the allocation of the multiple data at once, you can make time reduction to be applied to the CAM.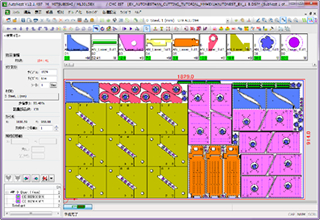 AutoPunch, AutoCut function
AutoPunch for Punching machine, AutoCut for Laser machine. You can allocate punch tool and allocate Laser process line with using our CAM know-how. Also it has Micro joint setting, Parts chute setting and Forming setting.
AutoPunch (Laser automatic allocation) function
AutoPunch is the advanced punch tool allocation function. IST has punch tool detail setting, special tool setting, etc. You can register the Micro joint settings, etc. with our various processing know-how. Use the registered tool information, you can create automatic punch tool allocation with registered information.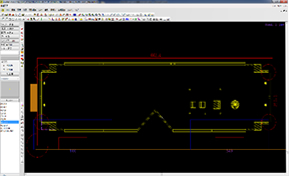 AutoCut (Laser automatic allocation) function
Resister the processing conditions with Parts Handling table for each Machine, Material, and Thickness. You can registrate the laser processing know-how. Using the registered information, execute the allocation, making it possible to stable allocation. The processing order will also be changed at the time of allocation. You can change the laser path as follows depending on the setting.

Remnants material registration and Remnants material nesting
It can be registered as Remnants material (the remaining material) to the plate database after nesting.
During nesting executing, than plate database, it is possible to select the standard size sheet or Remnants, it can be instructed to use priorities. Depending on the situation, it is possible to create a nesting data using Remnants. You can use whole sheet efficiently and make cost reduction.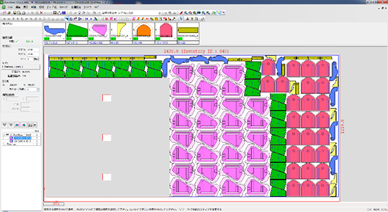 CADLINK function (optional feature)
IST can be sent Flat-Pattern to 3D CAD, seamlessly.
Simply click on the Export icon in the 3D CAD, you can transfer the data to IST.
You can use the IST bend deduction compensation information table.
*1 Solid Edge®/SolidWorks® /Autodesk® Inventor® /Pro/ENGINEERR
SolidWorks® is a registered trademark of Dassault Systems SolidWorks Corporation.
Solid Edge® is a trademark of Siemens Product Lifecycle Management Software Inc.
Autodesk®、and Autodesk® Inventor® is the United States Autodesk, Inc., and It is trademarks or registered trademarks in other countries.
Pro/Engineer® is a trademark of Parametric Technology Corporation.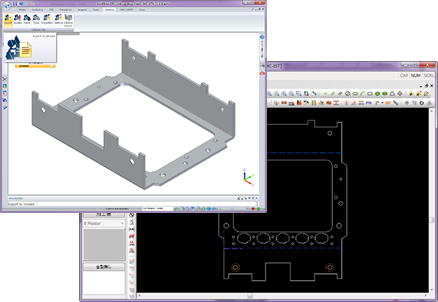 Tube angle (optional feature)
Square pipe, round pipe and Angle steel, you can easily create the processing data with pattern input.
Square pipe and round pipe 3D modeling data can be immediately create processing data by using the Tubelink function.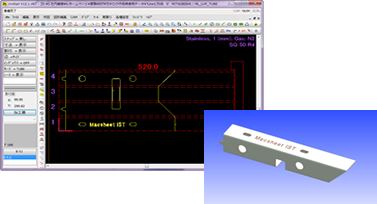 Tube Nesting(Option)
Tube option also have a good material usage as like normal sheet nesting.

Operating environment
MacSheet series hardware requirements (recommended environment)
| | |
| --- | --- |
| Operating system | Windows 7 Professional (64bit) |
| Processor | Intel ® Corei7, Intel ® Xeon ® E3 processor or more |
| Memory | 16GB DDR-3 SDRAM(1600MHz, ECC, 8GBx2) |
| Hard disk drive configuration | 256GB SSD 1st + 500GB SATA HDD 2nd |
| Graphics | NVIDIA Quadro K2000 2GB |
| Optical drive | DVD drive |
| Network controller | On board |
| Keyboard | USB Standard Keyboard |
| Mouse | USB Optical Laser Scroll Mouse |
| Port | USB port |
| Screen resolution | 1920×1080  (widescreen) |
| Office Software | Microsoft® Office Personal 2013 |
(Making it a selection at the time in October 2014)
※ Windows® (other trademarks and registered trademark name) is a registered trademark or trademark in the United States and other countries of United States Microsoft Corporation.
Other company names are trademarks, product names are registered trademarks or trademarks of their respective owners.